In order to purchase the book – scroll down and click one of the blue links.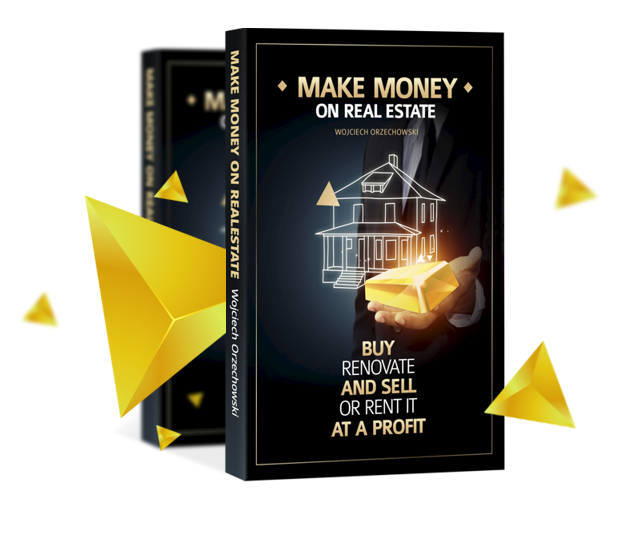 7 reasons why you should read this book before you begin investing in real estate!
Wojciech Orzechowski has been making successful investments since 2006. Earning on real estate is not only his profession, but it is, first and foremost – his passion. Throughout all these years he has been systematically buying, renovating, selling and renting residential and commercial properties. Most importantly, the author has tested all the investment methods and strategies described in the book on the Polish real estate market.
He has always personally looked over every one of his investments from their beginning, throughout the various investment stages until the final sales transaction. Thanks to this, the information he shares is fully reflected in practical experience.
He is the owner of a successful and prospering company and has broad experience in the business world, which is proof of his integrity, professionalism and a keen eye when it comes to finding great market deals to earn on. The advice of such an experienced investor is invaluable for anyone who plans to invest in real estate, regardless of the stage they are currently at.
On top of all this, Wojciech is an amazing communicator and is naturally keen on helping other people. Currently, he is also for some a mentor and personal trainer in real estate investments. In his book, Wojciech guides you in detail through the investment process. The tasks and practical exercises he prepared for you will allow you to test your investor skills while reading the book, without taking any financial risk.
The author created a tested and repeatable strategy thanks to which you may be able to achieve a 100 % return on investment rate! While others either don't want to admit to it or perhaps prefer to keep their knowledge to themselves, Wojciech Orzechowski shows others how to copy his strategy and keep all the profit to themselves. The book presented is a perfect supplement to his personal coaching program – the Invest in Real Estate Workshops  "WIWN ONLINE".
The Invest In Real Estate Workshops (WIWN.PL) are his flagship program of personal coaching, thanks to which all participants receive comprehensive assistance at the start of their journey to become a rentier – which is the personal support of an experienced investor and his team of advisors, specialists in the fields of construction, finance, law, tax and accounting. WIWN.PL is the only coaching program in Poland conducted in a practical form – apart from theoretical knowledge shared during the workshops, participants spend time out in the field. It is probably the most realistic higher school of business education for real estate investors.
The book has the form of a practical guidebook and is written with simple language, explaining the investment process step by step in chronological order. The author leads you by the hand and clarifies what is most important at each investment stage. This way, the book answers the most frequent questions asked by most beginning investors when they start their adventure on the real estate market. You can open it at any stage of your investment and you will be sure to find a chapter that will help you make the right decisions, leading you to success!
Reading the book will help you find out the following:
How to become a rentier in 6 years,
How to get a 40-100 % return rate annually on your investment,
Why it is better to flip real estate in comparison to leasing or subleasing it,
How to plan an investment,
How to purchase real estate and search for market bargains,
How to start investing in real estate without having any money,
What conditions have to be met not to lose out when investing,
Whether and how you can protect yourself from buying bad investments,
What to pay attention to while buying property to make it attractive for your future clients or renters,
How to make the purchased property more valuable on the market,
How to prepare the property for sale or rental,
What you should pay attention to when searching for a customer or renter,
What to do if you can't find a customer,
How to negotiate the conditions of a rental or sale.
"Make Money on Real Estate" will also help you understand how to finance real estate investments so that your investments are safe, effective and always successful!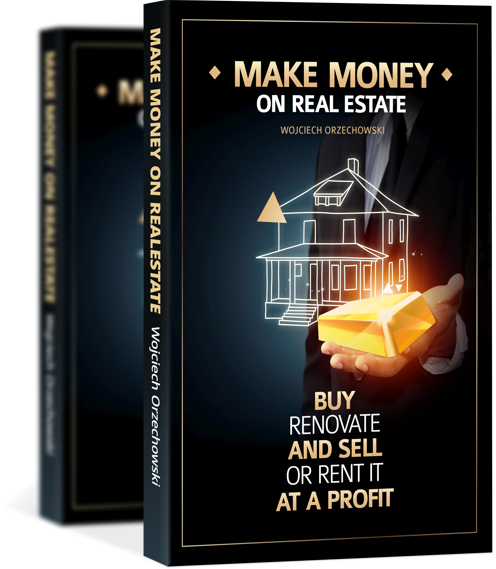 Go to the e-store to purchase the book:
You can also purchase the e-book: